A 2022 report on the U.S. Ready-mixed Concrete market.
There is one building material that impacts all most every project in the world – Concrete. It is the most consumed product of the "Built World". We often challenge those who question the #1 claim to walk a mile down any city sidewalk and not see concrete everywhere. Many studies have stated that concrete is second only to water as the most consumed product on earth.
Ready-mixed concrete (RMC) is the "stew" of materials that is mixed and delivered in the drum of a mixing truck or trailer.  The basic recipe is a blend of aggregates, portland cement, and water. Various strengths of concrete are created by adjusting the volumes of these components, along with the addition of enhancing chemicals.  The trucks and trailers that move this material are batched at a central location and then are delivered out to job sites.  Concrete has a period of time when it is liquid and then a time when it transforms into a solid. There are 400 million cubic yards of this ready-mix concrete delivered to job sites in the U.S. every year.
Ready-mixed concrete is poured out and then finished into a shape. It could become a bridge, or a dam, or a sidewalk. Most of the concrete is actually hidden from view because concrete is the foundational material in every home, skyscraper, highway and canal.
According to the National Ready Mixed Concrete Association (NRMCA) there are over 7,000 batching plants in the U.S. that are used to load ready-mix trucks. There are an estimated 70,000 trucks that mix, deliver the fluid concrete into the forms that create the finished shape.
The Short Load Market Studied
Cart-Away has over 400 small batching plants and about 4,200 small mixing trailers doing ready-mixed deliveries in North America. The Cart-Away platform focuses on servicing the smaller projects which are cost prohibitive for the big trucks.  Cart-Away mixing trailers service the "short-load" deliveries that are less than 4 cubic yards. These short-loads are used for patios, sidewalks, RV pads and more. This portion of the ready-mixed concrete industry represents about 28 million cubic yards each year. Concrete Financial Insights has completed a study of the current RMC market, along with details of short load concrete. The following are some of the highlights of the report. We are very interested in what is revealed concerning the impact of the short-load market.  But let's spend some time with the other sections of the report:
Ready-mixed concrete volumes are increasing
Even with our robust construction market of the past few years, we are still digging out from the bottom of 2010.  This STUDY demonstrates that we are seeing a steady climb in the annual concrete production numbers, and expect to have over 400 million cubic yards reported from 2021. Current rumblings of recession might cause the increases to slow, but concrete will always be an essential material in the foundation of our infrastructure.The good news is that there is something really big on the horizon.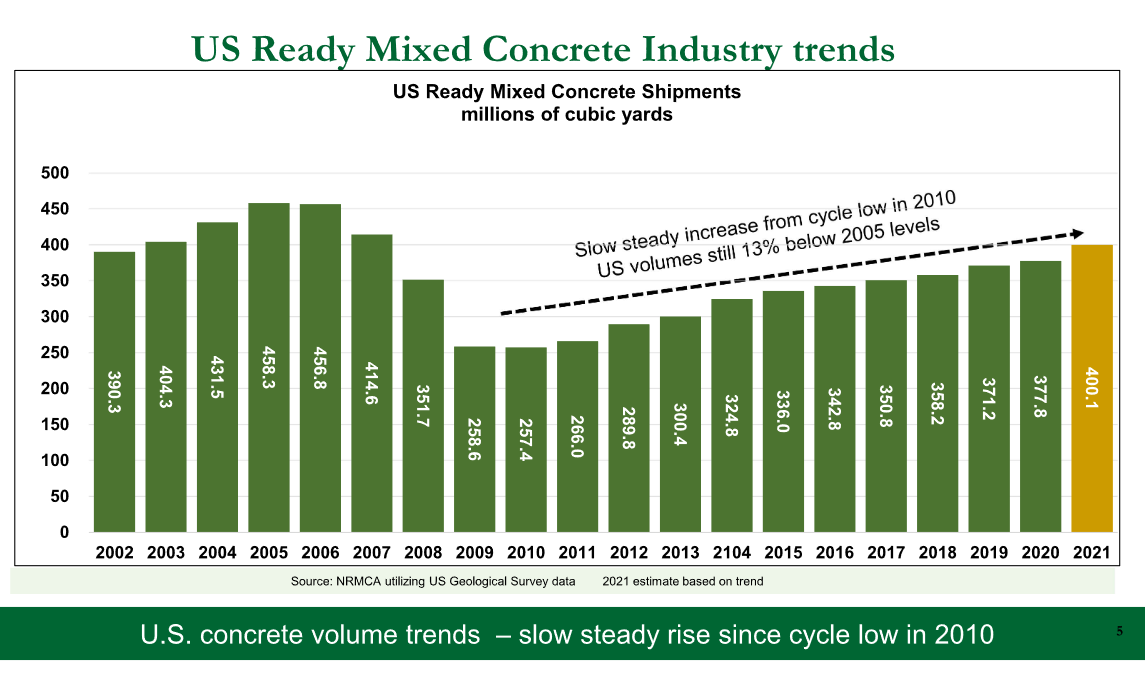 The federal government is going to make a huge impact on RMC starting in 2023. This report projects the impact of this new level of government infrastructure spending.  There will be an influx of over $550 billion dollars moving into construction spending. All indications point to a coming flood of concrete demand from all of these government contracts. In fact, we are currently experiencing a ready-mix delivery crisis, so this will actually present some dramatic opportunities for investing in the concrete marketplace. When you review the list of spending priorities, you can understand how concrete will play a big part in each project.  The Portland Cement Association (PCA) has completed the best estimates on the impact of this spending .  The projections suggest that it will add 46 million metric tons of cement powder to current needs. The PCA findings say that between 70% and 75% of all cement powder is used to make ready-mixed concrete. Let's try to understand the scale of 46 million tons of cement powder –  Cement powder flows like water, so water volume is a good comparison.  46 million tons converts to 12,151,820,000 gallons of water, or the equivalent of filling 1.2 million average swimming pools. This government spending will be a financial boon to those who invest in the ready-mixed concrete industry.
There are some regions that are very hot for concrete
Currently the demand for RMC is strongest in 9 states. From California to North Carolina, these nine states use 51% of the concrete volume in the U.S. Texas alone uses 61 million cubic yards of concrete. All of this volume is prior to any extra government spending that is on the way.  These 9 states are also on the list of areas where the RMC delivery crisis is raging. Contractors in these markets are waiting weeks or months to get concrete delivered by a RMC truck. It is nearly impossible to get a short-load (under 4-yards) of concrete in some of these markets. This delivery crisis represents a huge opportunity for our Cart-Away locations.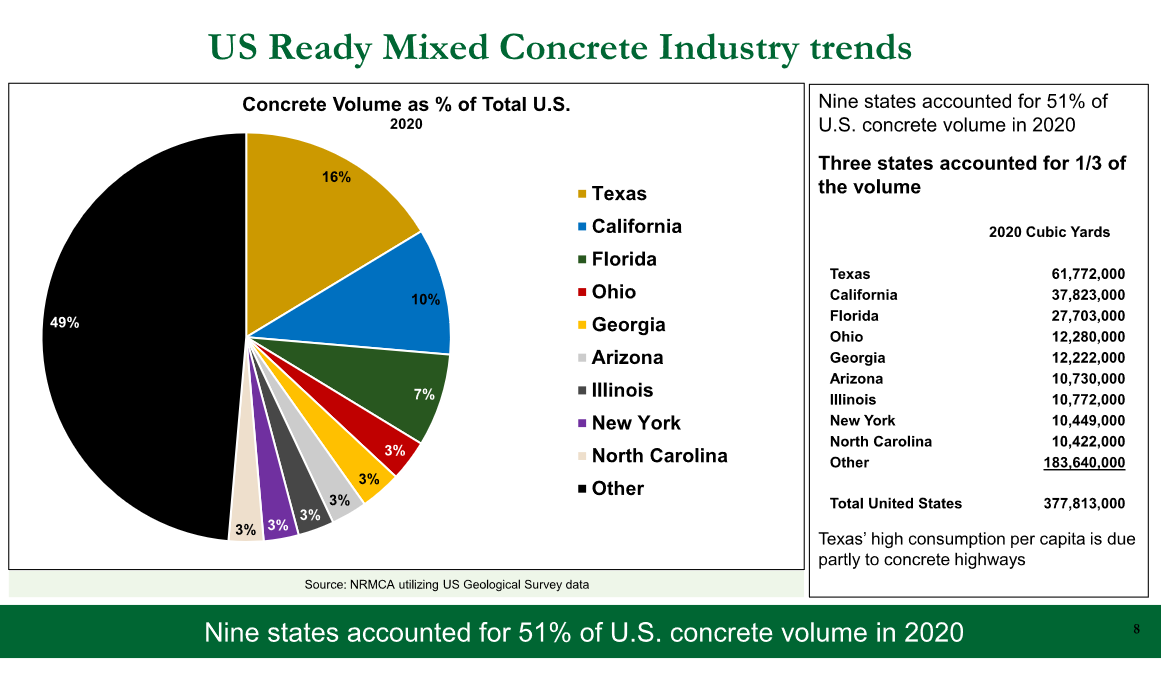 The Short-load delivery market is a great investment
As the demand for RMC increases the challenges with getting a delivery will grow. The customers who use a small amount of concrete will be the hardest hit by this delivery crisis. In the hot markets we are hearing the short loads are pushed off as far as 2 months from order.  The short-loads represent about 7% of all concrete produced, or over 28 million cubic yards per year. Cart-Away is a proven solution for delivering the short-load. Over 400 locations and thousands of small mixing trailers provide the small loads whenever a contractor needs it.  One item of interest in the study is that the calculated numbers for this short load market might even be low. The study states: "We believe the actual short load market is higher because our sample did not include producers with less than 3 plants which typically have a higher percentage of small contractors and homeowners in their customer base".  Cart-Away would agree with that assessment. We have locations in small markets like Lodi, California and Ogden, Utah where they routinely sell over 20,000 yards per year to these short load customers.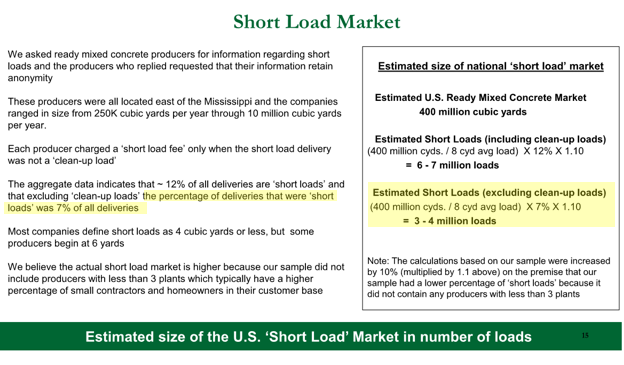 This study confirms the claim that ready-mixed concrete is the most important building material in the built environment.  Investing in this space by solving the short-load delivery issues is a wise move. The future looks very bright for this market and those who choose Cart-Away.