CART-AWAY USERS

Cart-Away staff are trained and experienced in government and military sales.
BUSINESS SUMMARY:
Since 1993 Cart-Away has demonstrated that the success of our customers is what fuels our business success. We know that adding extra value from in-field experience sets us apart from those who just want to sell equipment. We back this up with a fully-stocked parts/support department that is not normally found in this niche.
CAPABILITIES & EXPERTISE:
Cart-Away mixers and delivery systems have decades of field-service and are supported by a seasoned customer service team. Our customers rely upon us to produce robust concrete equipment and we take that responsibility very seriously. Our team is happy to provide you with a sole-source document.
FACILITIES AND EQUIPMENT:
Cart-Away has a reputation for innovation and efficient manufacturing. Our facility has the local reputation as "The place to work".  Our equipment is recognized for proven practicality in a compact package. Cart-Away machines are powder-coated for extra durability and are designed to meet the military specification of 70-plus drum rotations per batch.
CUSTOMERS:
We supply mixers to NATO-US Navy Seabees, multiple US Air Force Bases and local municipalities from California to Florida. In addition, there are thousands of our trailer-mounted mixers working in rental locations throughout North America.
"Our Cart-Away trailer works all day, every day on repair jobs. I wish we had another one."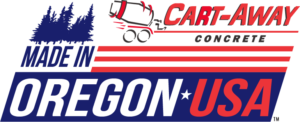 What is our GSA number?
Georgia Conrad
2018-09-14T18:03:08+00:00
Our GSA Schedule Number is GS-30F-0003T
To find GSA prices on Cart-Away equipment,
Go to www.gsaadvantage.gov, and enter 'cart-away' in the search box, and press enter.
View Some of Our Favorite Products for City and Military Uses.
Our Brands
Cart-Away Concrete Systems, Inc. is the owner of several recognizable brands and the creator of many unique branded products.