CART-AWAY USERS

We are small-batch concrete.
The Features that Matter
Our industry-leading innovative design features have revolutionized small batch concrete.
Direct Hydraulic Drive
The industry-leading drive system has replaced the outdated and unreliable chain and sprocket system. With less maintenance, less downtime, and improved safety features.
Surge Control Long Cone Drum Design
The only drum that allows complete dumping control with a full 48" long cone.
GearSaver Hydraulic Controls With VCS
The only mechanical control in the industry to protect against damaging shock loads to your gearbox.
Vari-Height tongue adjustment
Hitch height adjustment for improved towing ease and safety.
Torsion Spring Relief Gearbox
The only fully relieved gearbox mounting system.
Tandemflex fenders
No more cracked or bent steel fenders.
Made in the USA
All of the Cart-Away equipment is manufactured in Oregon/USA and is finished and assembled to the highest quality standards. Our industry experts are ready to provide the quality Cart-Away experience you have come to expect.
"Our Cart-Away trailer works all day, every day on repair jobs. I wish we had another one."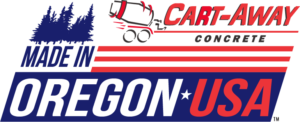 What is our GSA number?
Georgia Conrad
2018-09-14T18:03:08+00:00
Our GSA Schedule Number is GS-30F-0003T
To find GSA prices on Cart-Away equipment,
Go to www.gsaadvantage.gov, and enter 'cart-away' in the search box, and press enter.
View Some of Our Favorite Products for City and Military Uses.
Skid Mount Portable Concrete Mixer
Georgia Conrad
2022-04-04T00:09:30+00:00
Our Brands
Cart-Away Concrete Systems, Inc. is the owner of several recognizable brands and the creator of many unique branded products.