Our mission is to demonstrate great results to you. With robust products and heroic customer service, we will support your efforts to make the world a better place by pouring quality concrete.
Call us: 1-888-649-5464 
(MIX-KING)
Text us: 503-437-4141
Mailing Address:
P.O. Box 13550
Salem, OR 97309
Physical Address:
2490 Ewald Avenue SE
Salem, OR 97302
We look forward to meeting your needs! Please contact us for more information about our products, request an estimate, or make any other inquiries.
In order for us to best assist you we ask that you select the following button that best matches you or your business and fill out the subsequent form.
We will get back to you soon.
Cart-Away is Celebrating 25 Years in Business!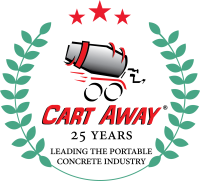 Our Manufacturing Began Over 50 Years Ago.
In September 1966, Betsy and George McClintock opened a metal fabrication business in San Jose, California. Eight short years later, George McClintock passed away and Betsy took over the business and hired Tom Vail to the team that year. Tom was eager to learn the business and in 1977, he and his wife Marion became minority owners of McClintock Metal.
In 1990, McClintock Metal moved to Woodland, California, near Sacramento and in 1993, bought the assets of Cart-Away Concrete Systems. At the time, Cart-Away Concrete's principal competitor, U-cart, employed several recognized industry experts; Scott Crist, Bruce Christensen, and Monte Pardee, each joined the Cart-Away Concrete team because they believed that McClintock Metal was in a better position to dominate the trailered ready-mix market.
Tom and Marion bought the remainder of McClintock Metal from Betsy McClintock Welsh in 2003 and began transitioning the business to Oregon. In early 2004, the assets of the Cart-Away Concrete product line were sold by McClintock Metal to the new Oregon Corporation, Cart-Away Concrete Systems, Inc. Later in 2004, all four families moved to the McMinnville, Oregon area and began working at the newly formed corporation on September 16, 2004.
In 2016, Bruce and Sarah Christensen purchased the business from Tom and Marion Vail and took Cart-Away to the next level, by first acquiring the U-cart brand to combine the two mainstream identities for the trailered ready-mix market. Bruce began his career as the Sales Manager of U-cart and joined Cart-Away in 2000 to head sales and marketing. He now owns and manages both leading industry brands with over 25 years of experience and a team of experts that have been with him from the beginning.
What does "Made in USA" mean?
Since 1993, Cart-Away Concrete Systems has been manufacturing portable concrete mixers in America. Through solid American ingenuity and hard work we disrupted and then changed a uniquely American niche – The U-cart concrete delivery system. These days, we lead the international portable concrete delivery market from our manufacturing and sales facilities in McMinnville Oregon.
Nowadays with cheap knock-offs, it can be hard to find companies that make products you can count on, but that is exactly what you'll get from Cart-Away. We proudly demonstrate that you can depend upon our equipment to make you money without any headaches.
We don't just make great products here in Oregon/USA; we make great products that stand up to the extreme demands of rental customers. Thousands of Cart-Away mixers are used and abuse in rental every day. Because our standards are as high as yours, we demand that every Cart-Away product delivers all the performance, durability and value that you need to get the job done right.
By using only the highest quality materials, superior workmanship, and keeping our manufacturing as close to home as possible, we're able to uphold those rigorous standards and demonstrate the results that you expect.
Cart-Away continues to invest in U.S. manufacturing and market-leading designs. We are committed to maintaining Cart-Away as the favorite among construction professionals.
We appreciate your business and interest in Cart-Away Concrete Systems and hope that the information on this page will answer questions you have about our commitment to US manufacturing.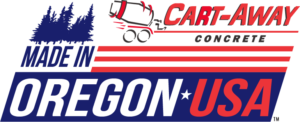 Is 100% of a Cart-Away Mixer made in Oregon?
Amanda Greene
2018-07-30T22:20:21+00:00
What does "virtually all" mean?
Amanda Greene
2018-07-30T22:19:01+00:00
"All or virtually all" means that the significant parts and processes that go into a Cart-Away product are from U.S. materials and labor.
How can we be sure it's Oregon made?
Amanda Greene
2018-07-30T22:18:20+00:00
​​Cart-Away Concrete questions each of its suppliers on the origin of the raw materials and the labor that they used for every part that goes into a Cart-Away Concrete product.
Request a tour of our facilities.
We would love the opportunity to be your guide around our facilities, just fill out the form below and let us know you're coming over.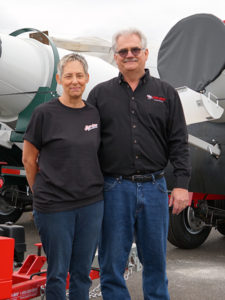 Interested in Joining Our Team?
We love what we do and we look for team players interested in long-term opportunities in the trailered concrete ready-mix industry. If you would like to work for us, send Bruce and Sarah an email with your resume. We will keep your letter of inquiry on hand for future opportunities. Thanks!