Is there a crisis in concrete delivery capacity?
Concrete is the most consumed product of the built environment. More ready-mixed concrete is produced for construction and maintenance than both steel, aluminum and wood combined.
The demand for this concrete outstrips the delivery capacity every day, forcing those who control its movement to prioritize who gets the concrete and who must wait.
The economics of ready-mixed delivery dictates who receives a priority. Expensive trucks, well compensated drivers, fuel costs and tight margins require that big volume jobs are serviced first. Smaller projects are pushed off for days or weeks, forcing contractors to live with the negative consequences of each delay.
For background – Ready-mixed concrete is measured by the cubic yard. One yard of concrete covers a space about the size of a standard conference room tabletop. One ready-mix delivery truck holds between 8 and 10 cubic yards for delivery. 394 million cubic yards of concrete, representing $50 billion in revenue, was produced in the US last year.
But not all projects need a full truckload. Seven percent of the concrete projects in the US need less than 4 cubic yards for completion. Contractors must depend upon ready-mix delivery to complete even these smaller jobs.  Because full truckloads are best for trucking economics, a small project receives a low priority in the big ready-mixed company's schedule.
But the contractor's pain does not end with waiting to get on the schedule – Each small load is charged an extra fee (Short-Load Charge) to cover the less-than-full-load delivery.
How do we solve this delivery capacity issue and remove contractor pain?
The solution is to eliminate the need to wait for the expensive truck to bring the concrete. It is called Cart-Away Concrete, and you can think of it as the "U-haul" for concrete.  Cart-Away is a self-delivery system that solves concrete delivery problems. Instead of waiting for the 10-yard truck to be scheduled, a contractor can come in with their own pick-up truck and pull away a load of ready-mixed concrete whenever it is needed. No more short-load fees and no more costly waiting times. Cart-Away puts the control of scheduling and reducing costs back into the hands of the contractor. The following video will demonstrate the value of a Cart-Away system for solving small project delivery issues.
But will a contractor use a Cart-Away trailer to deliver their own concrete?
Yes they will, and they have been doing this for over 28-years.
Cart-Away self-delivery trailers now number more than 4,100 units in North America. With a Cart-Away trailer the small project is more profitable to the contractor. With Cart-Away they can be in control of their delivery schedule and can eliminate short-load fees.  Today the big ready-mix suppliers refer all small deliveries to the nearest Cart-Away Supplier.  And the Cart-Away suppliers are rewarded with the great revenues and the highest profit margins in all of the concrete delivery models. The $160 million in annual revenue from the Cart-Away self-delivery model currently solves only a small fraction of the ready-mixed delivery problem.
The concrete delivery problem is moving toward a very big crisis.
Fixing some of the delivery problem is great, but a tidal wave of pain is swelling in the US and is going to wash over the construction marketplace in the next few years. A government funded infrastructure bill was passed and very big projects are being planned. Concrete delivery assets will need to expand to meet the demand, but there will be huge challenges with this effort. Growing demand will exacerbate today's problem as the delays, costs and frustration will grow at an estimated 5.4% per year. Here are the funding plans for the many new government projects:
·         $4.2 billion for road improvements
·         $1.1 billion for bridge replacement and repair
·         $2.5 billion for public transit
·         $1.1 billion for water infrastructure
·         $244 million for airport infrastructure
The results are very clear – Concrete will remain as the #1 most consumed product in the built environment, and ready-mixed delivery capacity will be further stretched. The largest concrete projects will command delivery priority and other projects will be pushed to the back. As this crisis builds, Cart-Away must take a larger role to help contractors that will be pushed farther to the back of the line.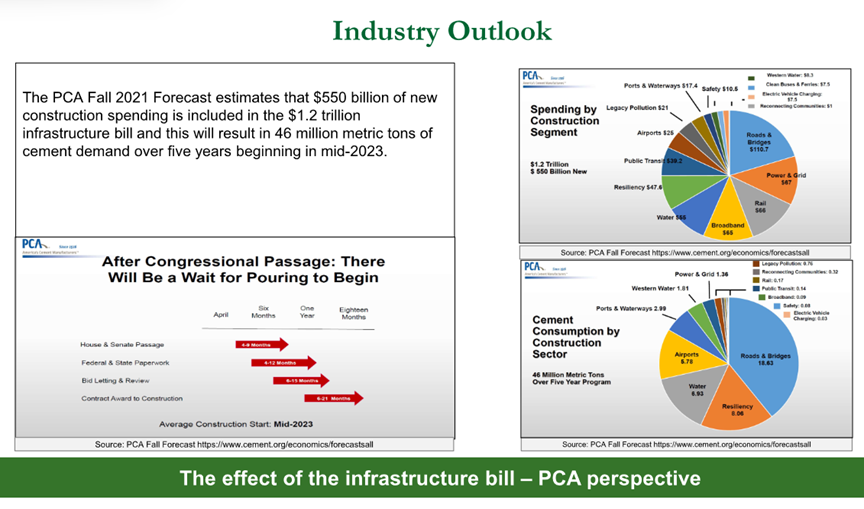 Is there opportunity in a coming concrete crisis?
A current $50 billion market that is growing at 3 to 5 percent is a source for many opportunities. Today, more than 394 million cubic yards are delivered to job sites. This is before all of the new infrastructure projects are added. If concrete delivery capacity is overwhelmed now, it will only get worse in the future. Many are approaching this issue from different directions. Cart-Away sees opportunity in reducing pain among a growing group of contractors who are pushed to the back of the line.
Self-delivered concrete needs to do its part.
For nearly three decades Cart-Away has built a brand and a delivery process that contractors have come to rely upon. In some markets there are hundreds of these self-delivery trailers moving concrete to job sites all day long. But there remain hundreds of markets where the delivery capacity is in crisis, yet there are no Cart-Away trailers to relieve the stress for the waiting contractors.
·         Austin Texas grows at 8% each year – No Cart-Away self-delivery service.
·         Huntsville Alabama contractors wait weeks for concrete – No Cart-Away trailers for contractors.
·         Irvine California is in a ready-mix supply crisis – A Cart-Away service is more than an hour away.
·         Orlando Florida has concrete supply issues – Needs at least two more Cart-Away suppliers.
·         Des Moines Iowa has impressive growth – No Cart-Away service in the state.
The list of communities that will be negatively impacted by the coming infrastructure projects represent both a crisis for contractors and an opportunity for those who know this wave is coming.
Why Cart-Away Supply is a safe bet.
Since 1993 a core group of individuals have participated in solving delivery problems for the under 4-yard project. They have invented, tested, and deployed equipment that allows contractors to control their concrete delivery costs. With these proven products and systems, they have enlisted a diverse group of established business who have added Cart-Away systems into rental, landscape and building material yards.
As of this writing, there are over 400 independent enterprises that offer a fleet of self-delivery concrete trailers to their customers. The self-delivery model has moved Cart-Away into the leadership role in solving the problem of ready-mixed delivery prioritizing. Because we have solved this problem for contractors, we now control over 85% of this ready-mixed delivery niche.
We have trained hundreds in the processes needed to reduce delivery pressure points. We have led willing entrepreneurs to success in communities as large as Los Angeles and as small as Alamogordo. Through all this effort we have collected the data points and demographic signals that point to a successful location with strong revenues.
It is time to step on the gas.
Every positive indicator we have witnessed over the decades of observation is pointing to 2023 to 2035 as the time to strike.
·         Delivery capacity is stretched, and new government spending will be massive.
·         Investors are looking for safer bets to add to their portfolio.
·         Cart-Away is the proven leader and is the U-haul of ready-mixed concrete.
·         Self-delivery relieves the problem of delivery prioritization for thousands of contractors.
·         We have identified 103 communities that are ripe for a Cart-Away solution.
·         A new generation of dynamic, creative, and smart leaders can take Cart-Away nationwide.
·         Newly developed technology will enhance efficiency and profitability.
All indicators are positive for a niche that doubled in size during Covid and saved hundreds from business failure during the great recession of 2008-10.  It is now time to join Cart-Away.