Back to the Basics.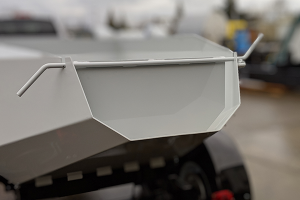 Many of the first (1993) rotating drum mixers are still in service today! Thousands of 1-yard concrete mixing trailers are on the road across North America and have mixed over a million cubic yards of concrete.
Specs
Axles: Tandem Heavy-duty @ 3500 lbs. each

Brakes: 4-wheel – hydraulic surge – free backing

Wheels/Tires: 205/75 R15 – load range D

Dimensions: 5' 5"W 4' 8"H 15' 5"L

Dumping Tub Configuration: Free-Flowing sidewalls to Free-Flowing tail-cone

Tail-cone Dump Height: 31"

Tailgate: Swing-away and secure latching
The Tub Trailer is a Popular Addition to the Following Cart-Away Products:
The tub trailer is a time-old customer favorite. Let us build a quote for you to give you the equipment that's just right for your business.