The CUBE 150 Solves Portable Concrete Batching Challenges.
Producing ready-mix from your own portable concrete batch plant will relieve so many headaches on your next project. The CUBE 150 is a proven solution at a variety of job sites. At a full 1 ½ yard capacity, the CUBE 150 is much larger than other contractor portable mixers, yet is compact enough to throw on a flatbed or small trailer to go to a mountaintop or other remote site. This portable concrete batch plant can be moved by helicopter, picked by a crane, forked with a telehandler or loaded into a shipping container for military deployments.
Trusted Worldwide
The Cart-Away CUBE 150 is the portable concrete batch plant of choice by NATO and the US Navy SeaBees. Read some of the many unique jobs that the CUBE 150 has completed.
Flexibility and Control
The CUBE 150 is proof that several concrete batching solutions can be put into one box. The CUBE 150, short for Cart-Away Universal Batching Equipment, allows users the flexibility to control most aspects of job-site ready-mix production.
Operators can control their batch size, mix design, labor costs and overall ready-mix expenses on every project. On-site batching eliminates short-load fees, reduces labor costs by waiting on ready-mix trucks and gives the profits from ready-mix to the CUBE 150 owner.
The CUBE 150 is Simple to Operate
The CUBE 150 comes standard with a 36″ by 120″ sand and gravel conveyor that can be top-loaded by a skid steer, backhoe or front loader.  The CUBE 150 can produce 6 to 8 yards of concrete per hour in a specific mix design. The loading, mixing and dispensing of the concrete materials are all completed inside of the box, reducing the amount of equipment needed at the job-site.
Loading Process
The mixing process is simplified due to the onboard material loading conveyor. Just load the top-mounted conveyor with the sand and gravel and it will flow into the drum for mixing.
Mixing Process
Water is added directly into the drum from plumbing that hooks to a standard garden hose. The drum spins in both directions for mixing or discharging and the tilting frame allows for dumping the wet concrete into a loader bucket or wheelbarrow for distribution.
Ready to Get Started?
When you need remote mixing or a completely portable concrete batch plant, you need the Cart-Away CUBE 150. It is compact, rugged and efficient. Contact us today to learn more!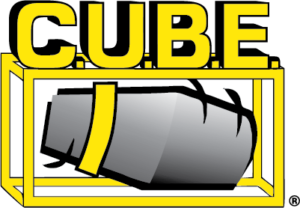 Specs
Uni-Body Hydraulic Valves

Gearsaver Speed and Direction Control

4 Corner Lifting Points & Dual Fork Pockets

2"x8" Structural Steel Skids, Full Length

Frame Mounted Steel 2" Towing Insert

Dimensions: 48" W x 78" H x 132" L

*Due to California regulation, all engine options may not be available. Please call for more information.
Options
Try Before You Buy – Full 65% of Rental Applied!
Options Available for the CUBE 150
Read About the CUBE 150
Portable Concrete Mixers in the World of Concrete Cart-Away Concrete
Cube 150 in Action "We originally planned to have two