Promote Loudly with your Drum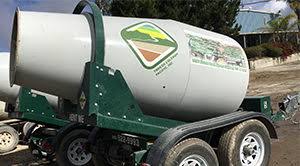 You own a rolling magic billboard – Use your concrete drum as the live-action hero for marketing your business.  When a Cart-Away mixer is spinning behind a truck it is the best attention grabber on earth!
It doesn't matter if you are a contractor, or a ready-mix retailer or a local municipality, you can use the spinning drum to tell the world about you.
Video Example
Watch this 1 minute 11 second video and pay attention to the way that the spinning drum can draw attention to your logo and company message.
We have been observing the most successful Cart-Away operations and contractors for the past 25-years. The best locations have thoughtfully used their drums and their logo to advertise for stronger revenue. Whenever a mixing trailer is moving down the road it draws attention. It screams notice me, I am different and watch me spin. This attention directs eyeballs to your potential billboard, so don't loose out on this opportunity to share your offer.
EXAMPLE MESSAGES:
"Lakeview's Best Rental Deals – 599-909-9809"
"A Full-Service Contractor – Free Quotes"
"Your Concrete Solution in Yamhill County – East Davis Road"
Add your company logo, phone number and a strong message then watch your business grow. Remember that the drum will be viewed from both sides, so make your message readable from both directions. We have found that people will wait for a 1/2 rotation to see what the upside-down message really says.
Keep the Billboard Clean
Concrete work can be a bit messy, so you will need to pay extra attention to your rolling advertisement. Because you have a quality reputation to uphold it will be important that your logo and your message send the right signal. Here is an article with some ideas on Cleaning Portable Concrete Mixers.
Use Your Billboard
A billboard will be of little value to you unless you use it for all that it is worth. Your Cart-Away mixing drum is like a portable moving megaphone of marketing power. When it is not doing some concrete work on a job, it should be out behind a truck on the road. Hook it up to your truck when you are out running errands, doing bidding, or even shopping at Home Depot.
By the way, when you stop by your local big box store, leave the drum spinning in the parking lot while you are in the store. A spinning billboard really stands out when it is parked in a strategic place. We have even heard of people taking a very long shopping list into COSTCO while they let the billboard do its job on idle in the lot.
If you have a local parade, take your moving billboard and let the crowd read your message. When the trailer is not working, park it out near the street. Be creative with your message and your use of the Cart-Away mixing drum. After all, you have a magic rolling billboard.