City Planners like Cart-Away
Since 1973 forward-looking cities have welcomed trailer-delivered concrete as an alternative to the big transit-mix trucks.  Less impact on the streets, reduced diesel emissions, lower dust creation and smaller wastewater issues all have created an opportunity for Cart-Away.  Cities love to get concrete into their local neighborhoods without all of the damage from traditional ready-mix trucking. They look to Cart-Away to assist them in solving these environmental issues.
Cart-Away is Expanding
What started as a Western ready-mix niche has grown to be the concrete solution in over 450 cities around the USA, with more in Canada. Everyday thousands of the 1-yard and 1/75-yard mixing trailers are delivering concrete in our cities. In many of these locations the #1 customer for the service is the public works, roads, water, schools and parks departments for that city. Many of the cities and counties have purchased their own Cart-Away mixer for regular use.
Cart-Away is perfect for cities
In many large metros there are multiple locations and dozens of trailers in the fleet.  For example: Sacramento California has 1o locations within the city. The high demand for concrete in town, combined with the smaller impact of a Cart-Away mixer has created a better way to move ready-mix within a high-density environment.
Cart-Away has room to grow
From big cities to small rural towns, the Cart-Away system has proven highly successful in meeting the needs of each community. Every city wants less impact on the infrastructure and a cleaner ready-mix delivery solution. The Cart-Away process is the solution.
But even with this growth there are many opportunities in areas yet to be served. In the chart below you can see the State by State distribution of current Cart-Away locations.
The west coast has almost 250 cities served by the Cart-Away trailer, but New England has less than a handful. At the bottom of this post you will find the cities that have the benefit of a Cart-Away system. In that list you may find an opportunity to provide environmentally better concrete to your neighbors. Profit margins in self-delivery are the highest in the ready-mixed concrete industry.

Cart-Away Cities Served
Vancouver Washington is the birthplace of the U-cart delivery system (1973), but California is where this business model really took root. Because of the environmental focus of the state, California leads the nation in trailer-delivery concrete. Cart-Away has provided the support systems to these communities for 25-years.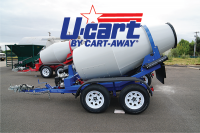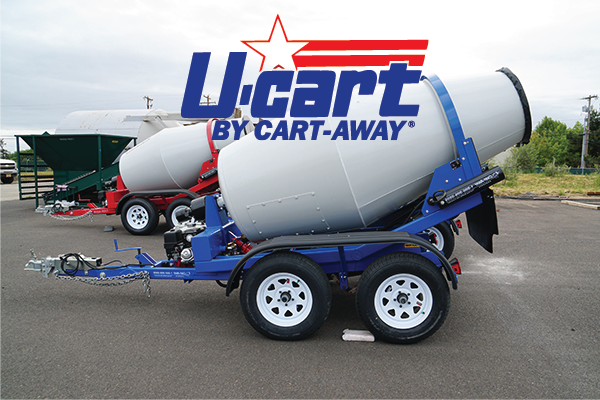 The modern mixing trailer was developed by Cart-Away in 1993 and then we started shipping to California. In 2016 Cart-Away purchased U-cart so as to better serve each community.
The list below will allow you to search by state, and then by the city that has concrete trailers in operation. It will also tell you how many locations are based in that town. If you don't see your city on the list, please call us and we will help you find a way to join the Cart-Away family of locations.  Your local government will thank you for bringing Cart-Away to town and for saving the local environment with trailer-delivered concrete.
| | |
| --- | --- |
| State / City | Number of Cart-Away Locations |
| AK | 7 |
| Anchorage | 2 |
| Fairbanks | 1 |
| Juneau | 1 |
| Kodiak | 1 |
| Petersburg | 1 |
| Skagway | 1 |
| AL | 2 |
| Birmingham | 2 |
| AR | 1 |
| Ft Smith | 1 |
| AZ | 9 |
| Cottonwood | 1 |
| Gila Bend | 1 |
| Glendale | 2 |
| Phoenix | 1 |
| Scottsdale | 1 |
| Tucson | 2 |
| Williams | 1 |
| CA | 204 |
| Anderson | 1 |
| Angels Camp | 1 |
| Antioch | 1 |
| Atwater | 1 |
| Auburn | 1 |
| Bakersfield | 2 |
| Bell Gardens | 1 |
| Benecia | 3 |
| Big Bear Lake | 1 |
| Brentwood | 2 |
| Buena Park | 1 |
| Carlsbad | 1 |
| Ceres | 2 |
| Chico | 6 |
| Chino | 1 |
| Chula Vista | 1 |
| Clearlake Park | 1 |
| Clovis | 2 |
| Commerce | 1 |
| Corona | 1 |
| Daly City | 1 |
| Davis | 2 |
| Delano | 1 |
| Desert Hot Springs | 1 |
| Dinuba | 2 |
| Dixon | 1 |
| Elk Grove | 1 |
| Escalon | 1 |
| Eureka | 1 |
| Fairfield | 2 |
| Fallbrook | 2 |
| Fillmore | 1 |
| Fontana | 1 |
| Fremont | 1 |
| Fresno | 2 |
| Galt | 1 |
| Gardena | 1 |
| Glendale | 1 |
| Greenwood | 1 |
| Hanford | 3 |
| Hayward | 2 |
| Hesperia | 1 |
| Hilmar | 1 |
| Hollister | 1 |
| Inglewood | 1 |
| Ione | 1 |
| Irvine | 1 |
| Kelseyville | 1 |
| Kerman | 1 |
| Lakeport | 1 |
| Lakeside | 1 |
| Lincoln | 1 |
| Livermore | 2 |
| Lodi | 1 |
| Long Beach | 2 |
| Los Angeles | 1 |
| Manteca | 1 |
| Martinez | 2 |
| Modesto | 1 |
| Monterey Park | 1 |
| Moreno Valley | 2 |
| Morgan Hill | 1 |
| N/A | 1 |
| Napa | 2 |
| Newcastle | 1 |
| Newhall | 1 |
| Newman | 1 |
| Nipomo | 2 |
| Norco | 3 |
| North Hollywood | 2 |
| Novato | 4 |
| Oak View | 1 |
| Oakland | 2 |
| Ontario | 1 |
| Orangevale | 1 |
| Oroville | 2 |
| Oxnard | 2 |
| Palos Verde | 1 |
| Paso Robles | 1 |
| Petaluma | 6 |
| Pittsburg | 4 |
| Placerville | 3 |
| Pleasanton | 1 |
| Porterville | 1 |
| Ramona | 1 |
| Rancho Cordova | 2 |
| Rancho Santa Fe | 1 |
| Red Bluff | 1 |
| Redwood City | 1 |
| Richmond | 1 |
| Riverside | 1 |
| Rolling Hills Estates | 1 |
| Roseville | 2 |
| Sacramento | 10 |
| Salinas | 3 |
| San Diego | 1 |
| San Fernando | 2 |
| San Francisco | 1 |
| San Jose | 5 |
| San Juan Capistrano | 1 |
| San Luis Obispo | 1 |
| Santa Barbara | 2 |
| Santa Paula | 1 |
| Santa Rosa | 4 |
| Selma | 2 |
| Shingle Springs | 1 |
| Simi | 1 |
| So San Francisco | 1 |
| Sonoma | 2 |
| Stockton | 4 |
| Sylmar | 1 |
| Tahoe City | 1 |
| Tehachapi | 1 |
| Troy | 1 |
| Tujunga | 1 |
| Tulare | 1 |
| Vacaville | 2 |
| Vallejo | 2 |
| Valley Center | 1 |
| Ventura | 1 |
| Visalia | 1 |
| Vista | 1 |
| West Sacramento | 1 |
| Westminster | 1 |
| Woodland | 2 |
| Yuba City | 2 |
| CO | 10 |
| Arvada | 1 |
| Commerce City | 1 |
| Denver | 3 |
| Englewood | 1 |
| Fort Lupton | 1 |
| Golden | 1 |
| Pueblo | 1 |
| Thornton | 1 |
| FL | 14 |
| Arcadia | 1 |
| Boca Raton | 1 |
| Brooksville | 1 |
| Crystal River | 1 |
| Ft Pierce | 1 |
| Jacksonville | 1 |
| Lehigh Acres | 1 |
| Naples | 1 |
| Orlando | 2 |
| St Clouds | 1 |
| Tampa | 2 |
| Tavares | 1 |
| GA | 2 |
| Forsyth | 1 |
| Atlanta | 1 |
| Jackson | 1 |
| HI | 2 |
| Honolulu | 1 |
| Ocean View | 1 |
| IA | 1 |
| Pella | 1 |
| ID | 3 |
| Boise | 1 |
| Nampa | 1 |
| Rathdrum | 1 |
| IL | 1 |
| Bartlett | 1 |
| IN | 1 |
| West Lafayette | 1 |
| KS | 6 |
| Augusta | 1 |
| Eureka | 1 |
| Olathe | 2 |
| Paola | 1 |
| Witchita | 1 |
| KY | 2 |
| Mount Wahington | 1 |
| Mount Washington | 1 |
| LA | 1 |
| Lafayette | 1 |
| MA | 2 |
| Revere | 1 |
| Rockland | 1 |
| MD | 2 |
| Annapolis | 1 |
| Germantown | 1 |
| ME | 1 |
| Limestone | 1 |
| MI | 8 |
| Baldwyn | 1 |
| Clawson | 1 |
| Comstock Park | 1 |
| Deerborn | 1 |
| Detroit | 1 |
| Hazel Park | 1 |
| Troy | 1 |
| Warren | 1 |
| MN | 10 |
| Belgrade | 1 |
| Hastings | 1 |
| Howard Lake | 1 |
| Lino Lakes | 2 |
| Little Canada | 1 |
| N. Mankato | 2 |
| South St. Paul | 1 |
| Stillwater | 1 |
| MO | 8 |
| Blue Springs | 1 |
| Claycomo | 1 |
| Collins | 1 |
| Overland | 1 |
| Springfeild | 1 |
| Springfield | 1 |
| St Louis | 1 |
| St. Louis | 1 |
| MS | 4 |
| Gulfport | 2 |
| Jackson | 1 |
| Meridian | 1 |
| MT | 1 |
| Ft Shaw | 1 |
| NC | 4 |
| Charlotte | 2 |
| Dunn | 1 |
| Wendell | 1 |
| ND | 1 |
| Wild Rose | 1 |
| NE | 4 |
| North Platte | 2 |
| Omaha | 2 |
| NH | 1 |
| Meredith | 1 |
| NJ | 7 |
| Branchburg | 1 |
| Clifton | 1 |
| Fairfeild | 1 |
| Hawthorne | 1 |
| Manasquan | 1 |
| Patterson | 1 |
| Trenton | 1 |
| NM | 9 |
| Alamogordo | 1 |
| Albuquerque | 5 |
| Carlsbad | 1 |
| La Luz | 1 |
| Roswell | 1 |
| NV | 7 |
| Battle Mountain | 2 |
| Las Vegas | 3 |
| Sparks | 1 |
| Winnemucca | 1 |
| NY | 13 |
| Bronx | 1 |
| Brooklyn | 1 |
| Elma | 1 |
| Fort Drum | 1 |
| Glen Cove | 2 |
| Glen Head | 1 |
| Lansing | 1 |
| New City | 1 |
| New York | 1 |
| Sanborn | 1 |
| Staten Island | 1 |
| West Seneca | 1 |
| OH | 4 |
| Cleveland | 1 |
| Milan | 1 |
| Toledo | 2 |
| OK | 1 |
| Norman | 1 |
| ON | 2 |
| King City | 2 |
| OR | 16 |
| Clackamas | 1 |
| Cornelius | 1 |
| Dallas | 1 |
| Joseph | 1 |
| McMinnville | 2 |
| Portland | 1 |
| Redmond | 1 |
| Salem | 4 |
| Sandy | 1 |
| Stayton | 2 |
| Tualatin | 1 |
| PA | 2 |
| Chambersburg | 1 |
| Philadelphia | 1 |
| SC | 3 |
| Charleston | 1 |
| Fort Mill | 1 |
| Walterboro | 1 |
| Suffolk | 1 |
| Ipswich | 1 |
| TN | 1 |
| Tazewell | 1 |
| TX | 49 |
| Aledo | 1 |
| Amarillo | 2 |
| Andrews | 1 |
| Arlington | 1 |
| Canutillo | 1 |
| Channel View | 1 |
| College Station | 2 |
| Converse | 2 |
| Corpus Christi | 1 |
| Dallas | 5 |
| Euless | 1 |
| Fate | 1 |
| Fort Worth | 2 |
| Garland | 1 |
| Georgetown | 1 |
| Grand Prairie | 1 |
| Hidalgo | 1 |
| Houston | 2 |
| Huffman | 1 |
| Irving | 1 |
| Italy | 1 |
| Kerrville | 1 |
| Laredo | 1 |
| Leon Valley | 1 |
| Lewisville | 2 |
| Lubbock | 1 |
| Mason | 1 |
| McAllen | 1 |
| Midland | 1 |
| Paris | 1 |
| Poth | 1 |
| Royse City | 1 |
| San Antonio | 1 |
| Tomball | 2 |
| Tyler | 2 |
| Zapata | 1 |
| UT | 22 |
| Cedar City | 1 |
| Erda | 1 |
| Hyde Park | 1 |
| Kaysville | 1 |
| Lehi | 1 |
| Lindon | 1 |
| Morgan | 1 |
| Murray | 2 |
| Ogden | 4 |
| Provo | 1 |
| Richfield | 1 |
| Salt Lake City | 1 |
| Santa Clara | 1 |
| SLC | 1 |
| Spanish Fork | 1 |
| Springville | 1 |
| St George | 2 |
| VA | 2 |
| Virginia Beach | 1 |
| Warrenton | 1 |
| WA | 26 |
| Auburn | 1 |
| Battle Ground | 2 |
| Bellevue | 1 |
| Bellingham | 1 |
| Bothell | 2 |
| Kennewick | 1 |
| Manson | 2 |
| Maple Valley | 1 |
| Mountlake Terrace | 1 |
| Mt Vernon | 1 |
| North Bend | 1 |
| Poulsbo | 1 |
| Puyallup | 1 |
| Redmond | 1 |
| Richland | 2 |
| Seattle | 1 |
| Sequim | 1 |
| Snohomish | 2 |
| Tukwila | 1 |
| Yakima | 2 |
| WI | 2 |
| Milwaukee | 2 |
| WY | 3 |
| Cody | 1 |
| Hakeem Balogun | 1 |
| Riverton | 1 |