Standard Concrete Delivery Breaks Infrastructure
Concrete is the second most consumed product on earth (water #1) and is used to construct our community infrastructure. It is the foundation of our buildings, roads, sidewalks and our homes.
We need the heavy concrete trucks to initially build our infrastructure. They can do the work quickly and efficiently during the time before the final concrete is put into service.  But when we need on-going concrete improvements and concrete enhancement to our homes and neighborhoods, we crush our finished concrete with heavy ready-mix truck delivery.
A driveway, a curb or a sidewalk was not engineered to take the stress of a heavy concrete delivery vehicle. When you back a ready-mix truck over a driveway, sidewalk or curb it crushes the concrete and then causes additional heavy concrete deliveries to repair the damage. It is a cycle of destruction that needs a solution. Most of our residential roads and driveways where never engineered to accept heavy trucking that returns to the neighborhoods time and time again.
For years we have let these large vehicles return to do patios, spa pads, RV parking, mowing strips, shed foundations, fencing and much more. Each trip with a large ready-mix truck adds to the stress and damages of our infrastructure.
Heavy Concrete Delivery Options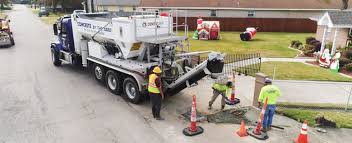 Even when they are completely empty, a ready-mix truck weighs over 27,000-pounds. When you add 4,000-pounds for each cubic yard of concrete you can quickly have 65,000-pounds of crushing weight on the street. Even the site-mix truck option has the same heavy weight specifications to make a delivery of concrete into the neighborhood.
The Solution Must be Lighter
Demand for concrete will not stop, even when we know the risk to our community. Therefore, we should find a solution that allows concrete to enter the neighborhood without the damage cause by the heavy trucks. The answer is a trailer-based solution like a Cart-Away mixer. The concrete mixing trailer was invented in 1993 to solve the issues created by small load concrete deliveries. The solution to damaging deliveries is a trailer full of concrete that weighs no more than 10,000-pounds.
Strategic Solution Close to each Neighborhood.
For the past 25-years these tow-behind concrete mixers have moved millions of cubic yards over North America's fragile roads, sidewalks and driveways. The best solution to reducing damage to the roads and the local concrete is to allow easier access to these light-weight delivery units. We need these  concrete materials close to where people are doing their home improvements. Not way out of town causing more fuel usage.
Currently there are over 350 locations that provide concrete in a lighter trailer-delivery system. But we need many more locations in order to cover the communities that continue to suffer the crushing weight of big-truck concrete delivery.
Don't Accept the Damage
Many communities see the damage caused by heavy trucking, but have not moved to find a solution. We call upon city and county leadership to find ways to replace heavy concrete delivery with a lighter, more efficient solution. Cart-Away has decades of experience assisting communities with the solution to saving their valuable infrastructure. We offer our expertise to any and all that want to supply ready-mix to their community.