Traditional ready-mixed trucks love Cart-Away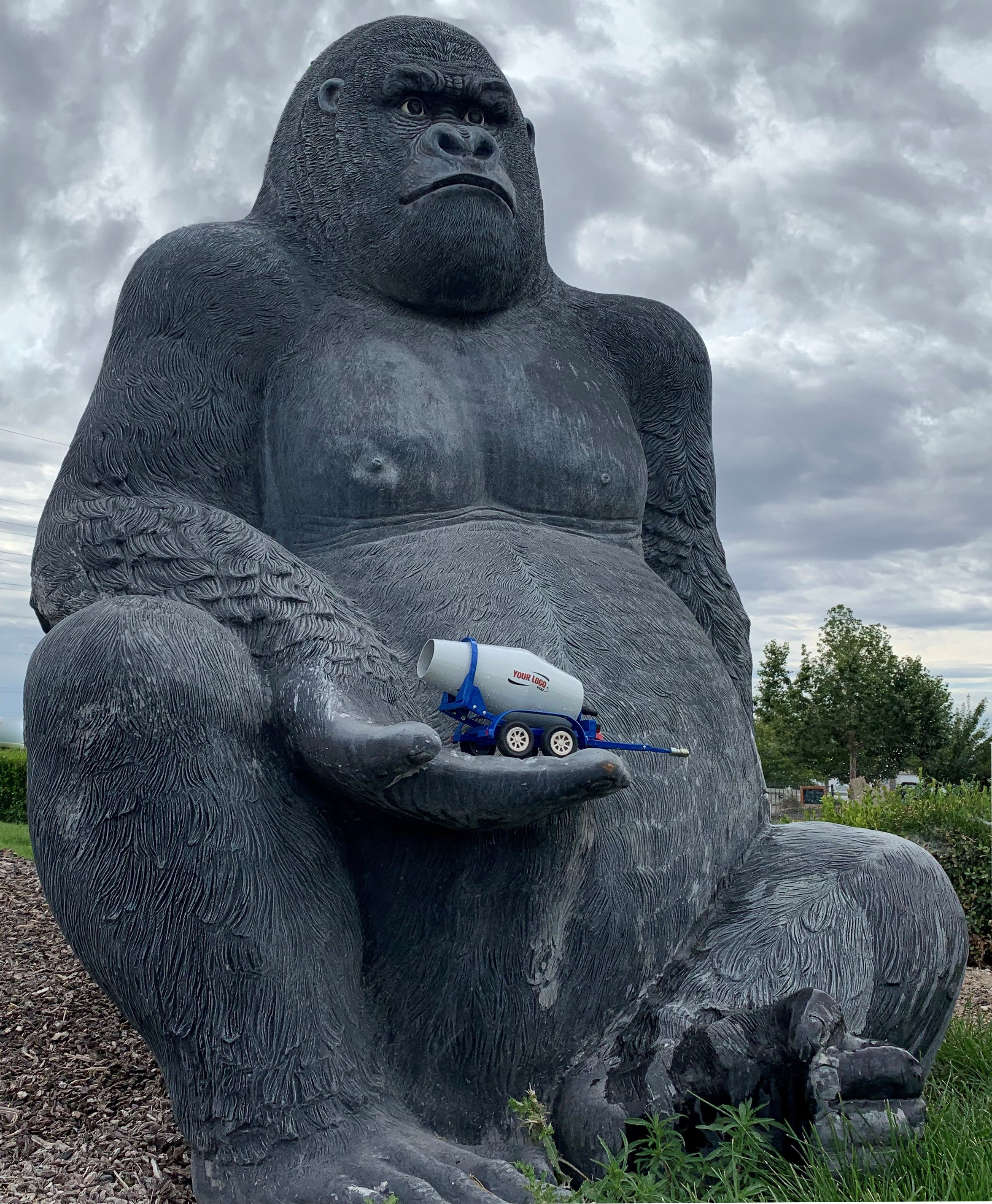 There is no disputing that ready-mixed trucks are the big gorilla of concrete delivery.  400 million cubic yards of concrete were produced in 2021 and most of it was delivered by the nearly 72,000 ready-mix trucks in the U.S.
These trucks can carry between 8 and 12 cubic yards per trip and they move the most consumed product in the built environment. But the big gorilla has a weakness and they know it – They don't do small very well.
Small load support needed
Big gorillas have a huge appetite and require big expenditures. A modern ready-mix truck can cost $250,000 and burns fuel at about a gallon every three miles.  The big truck delivery system requires a multi-million dollar batching system, acres of real estate, sophisticated dispatching software and several high-paid drivers. All of this puts a strain on profit margins.
These big gorillas of concrete are at their most profitable when they deliver in trucks that are full of concrete. Anything under 4-yards is a money loser for them. This is why they love Cart-Away as their local partner. When they have a load that is not a good fit for them, they can send it off to Cart-Away. Before Cart-Away they would upset their customers by charging them extra fees for small loads and then make them wait for a delivery. After Cart-Away they can support their customers needs and save the hassles with angry contractors. Cart-Away becomes the big gorillas useful little buddy.
Ready-mix gorillas are not retailers
Large concrete companies are the most efficient when they are serving big jobs. They like a process where a contractor calls into the dispatcher with an order of several full truckloads of ready-mix. The dispatcher sits at a computer screen that allows them to see all of the available trucking assets and the scheduling plans. Trucks are assigned and loaded from the dispatcher's central command center. There is no face to face interaction in the process, just a voice over the phone.  There is very little opportunity for personal connection like there is in retail.  In the big gorilla model the truck driver becomes the "face" of the company to the customer. Drivers are not hired for their public relations skills and they just want to deliver and leave. Smaller projects need a more retail approach and gorillas are not wired for this.
Servicing the small load customer requires a more personable and consultative attitude. Small load ready-mix is better served when there is a retail look and feel for the customers.
Cart-Away is a combination of two recognized retail-facing business models: Equipment Rental and Construction Supply. Both of these business models have easy public access, customer parking, a sales counter and a friendly face. Both models are geared to selling rather than just order taking. Once the sale is made, both usually have a helpful yard person assigned to make sure the product is loaded for the customer. Big gorillas are not set-up for retail, but Cart-Away is.
Big gorillas hand Cart-Away the business
Once a big concrete supplier knows that there is a Cart-Away location nearby, they begin to send small loads to this retailer. In city after city the big gorilla extends a hand of friendship to the Cart-Away retailer. They work together to service the ready-mix needs of the community. As a result, Cart-Away sends all of the big loads to the gorilla and all of the small stuff is handed to Cart-Away by the dispatcher. Both operations benefit from this partnership and customers are better served. The big gorilla loves Cart-Away and we love the big guys support.