The Staple of Cart-Away Concrete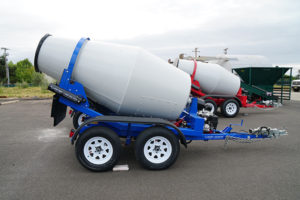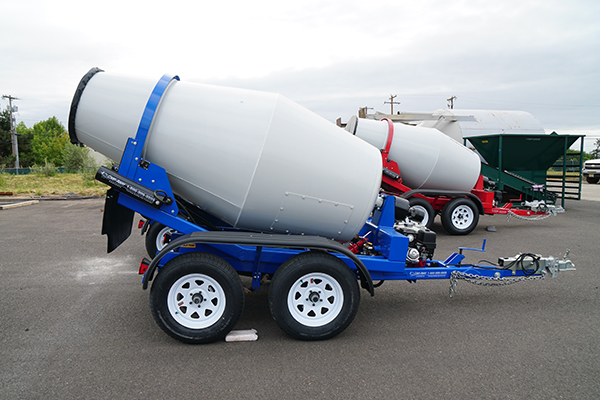 Many of the first (1993) rotating drum mixers are still in service today! Thousands of 1-yard concrete mixing trailers are on the road across North America and have mixed over a million cubic yards of concrete.
Larger Mixing Capacity
A 1.75-yard towable concrete mixer is the perfect alternative when 1-yard is just not enough. The 1.75-cubic yard portable concrete mixer can be towed behind a heavy-1/2 ton or larger pick-up without a special license.  This towable concrete mixer easily blends and dispenses quality concrete for your larger projects. The 1.75-cubic yard capacity provides just the right amount for sidewalk repairs, patios, utility sets and much more.

Specs
4 wheel free-backing brakes

Vari-height adjustable tongue

GearSaver Knob for gearbox safety

Dimensions 15'4" L x 5'7" W x 6'10" H

Tubular A36 structural steel frame

Plastic Tandemflex fenders

*Due to California regulation, all engine options may not be available. Please call for more information.
What are the Differences?
1 yd Specs & Options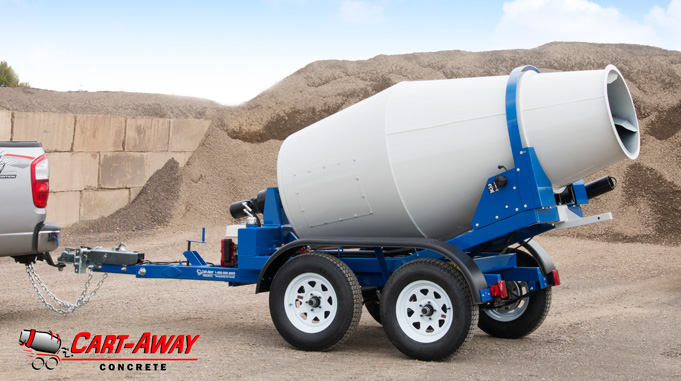 When

 you choose the 1-yard portable concrete mixer you own a tool that has a 25-year success record. Most of these robust mixers endure years of use in rental applications. These are built to last.
1.75 yd Specs & Options
When you choose the 1.75-yard portable concrete mixer you have a drum with nearly double the carrying capacity! This towable concrete mixer is built with the same solid fabrication and parts that you can trust for many years.
1 yd Specs
7000 GVWR or 1 cubic yard capacity

Load range C ST 205/75 D15 tires 1820# rating
4 wheel free-backing brakes

Vari-height adjustable tongue

GearSaver Knob for gearbox safety

Hydraulic surge brakes (electric brake option)

Dimensions 15'4" L x 5'7" W x 6'10" H

Tubular A36 structural steel frame

Plastic Tandemflex fenders
1 yd Options
2″ or 2-5/16″ Bulldog Coupler
1.75 yd Specs
10,000 GVWR or 1.75 cubic yard capacity

Load range D ST 225/75 15″ radial tires 2540# rating
4 wheel free-backing brakes

Vari-height adjustable tongue

GearSaver Knob for gearbox safety

Hydraulic surge brakes (electric brake option)

Dimensions 15'4" L x 5'7" W x 6'10" H

Tubular A36 structural steel frame

Plastic Tandemflex fenders
Add-ons Available for the MixKing: