Water Access Only 
At a remote site on Silverwood Lake is a recreational facility that can only be accessed by boat.
When it came time to upgrade the site, the contractor turned to the Cart-Away CUBE. as the ready-mix solution.
The onsite batching system was used for rehabbing restrooms, shade structures, docks, and walkways.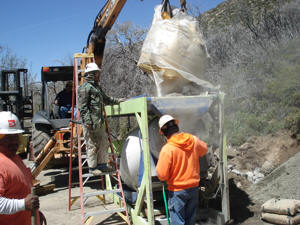 They also added new curbing and other improvements to the grounds. The project required 80 yards of concrete, so they kept the CUBE busy. (A Ready-mix truck was also barged over for a larger pour)
The crew used the CUBE, along with two tractors to complete the concrete work.
Super Sacks of mix filled the CUBE with raw materials.
The CUBE continues to be the contractor's
choice for concrete projects in remote and hard to reach locations.