What does it mean to be "Made in USA" ?
Since 1993, Cart-Away Concrete Systems has been manufacturing portable concrete mixers in America. Through solid American ingenuity and hard work we disrupted and then changed a uniquely American niche – The U-cart concrete delivery system. These days, we lead the international portable concrete delivery market from our manufacturing and sales facilities in McMinnville Oregon.
Nowadays with cheap knock-offs, it can be hard to find companies that make products you can count on, but that is exactly what you'll get from Cart-Away. We proudly demonstrate that you can depend upon our equipment to make you money without any headaches.
We don't just make great products here in Oregon/USA; we make great products that stand up to the extreme demands of rental customers. Thousands of Cart-Away mixers are used and abuse in rental every day. Because our standards are as high as yours, we demand that every Cart-Away product delivers all the performance, durability and value that you need to get the job done right.
By using only the highest quality materials, superior workmanship, and keeping our manufacturing as close to home as possible, we're able to uphold those rigorous standards and demonstrate the results that you expect.
Cart-Away continues to invest in U.S. manufacturing and market-leading designs. We are committed to maintaining Cart-Away as the favorite among construction professionals.
We appreciate your business and interest in Cart-Away Concrete Systems and hope that the information on this page will answer questions you have about our commitment to US manufacturing.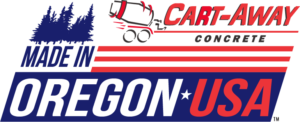 Is 100% of a Cart-Away Mixer made in Oregon?
Amanda Greene
2018-07-30T22:20:21+00:00
What does "virtually all" mean?
Amanda Greene
2018-07-30T22:19:01+00:00
"All or virtually all" means that the significant parts and processes that go into a Cart-Away product are from U.S. materials and labor.
How can we be sure it's Oregon made?
Amanda Greene
2018-07-30T22:18:20+00:00
​​Cart-Away Concrete questions each of its suppliers on the origin of the raw materials and the labor that they used for every part that goes into a Cart-Away Concrete product.