Cart-Away saves city streets and local air quality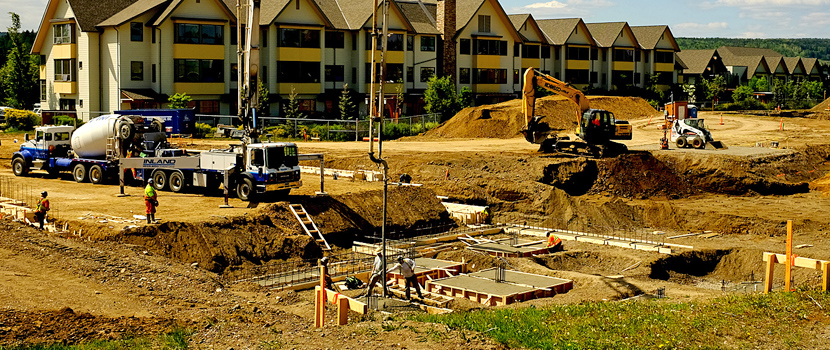 Every community is a combination of residential, commercial and governmental assets. The streets, sidewalks and structures that we create contribute to the built environment and make our lives more functional. Concrete is the foundational building material of almost every asset that we construct. It is the most consumed product of this built environment. During the life cycle of these assets there are a couple of construction phases that will require ready-mixed concrete to be delivered. One phase focuses on installation and the next focuses on improvement and maintenance. The first phase has major environmental impacts, while the second continues to search for ways to minimize negative impacts and the protection of our assets. Cart-Away works to solve issues in Phase #2.
Concrete delivery comes in two phases
Phase #1 concrete needs –  This is the period for the initial construction of the project. This is when foundations are poured, underground utilities are laid, sidewalks are installed and other street assets are constructed. Phase #1 is the perfect time for the use of big, heavy equipment. In this phase the impact of crushing weight can be planned for and rectified within the scope of the project. This is when large volumes of ready-mixed concrete will be needed, and the perfect application for large transit-mix trucks to move this material. Once the infrastructure is finalized the community will begin to live, walk and drive on the finished product. There is 400 million yards of concrete delivered in the United States every year, and most of that will go to Phase #1 projects.
Phase #1 trucking needs –  The shear volume of ready-mixed concrete needed will requires dozens of trips from the concrete batching plant to the construction site.  These loads will mostly be delivered at the full capacity of the transit-mix truck. These mixing trucks hold between 8 and 10 cubic yards, depending upon the truck fleet.  According to the American Concrete Institute, a typical fully loaded truck exerts 66,000 pounds on the ground, 28,000 pounds on each of its rear axles. An empty truck weighs 27,000 pounds. Each additional cubic yard of concrete adds 4,000 pounds.  The rear axles govern design, considering the share of load they carry and their proximity to each other. The bottom line is that these trucks put a bunch of stress upon the community roads and streets, so limiting their trips to the Phase #1 period make perfect sense.  Those who are searching for a more sustainable infrastructure are looking to manage concrete deliveries after Phase #1 is completed.
Phase #1 air quality impact – With dozens of pieces heavy equipment working on each project there is a lot of energy required. Large diesel engines are worked to capacity and therefore produce higher than normal air quality impact.  All of this is to be expected during Phase #1.
During this period the concrete deliveries by heavy trucks produce higher CO2 and have a measured impact on the environment. In an Arizona State University study they measured the impact of concrete delivery on the air quality. The report was titled: Carbon Emissions based on Ready-mix Concrete Transportation. They followed and cataloged the Phase #1 period for a subdivision of over 50 homes. This land development project involved building the horizontal infrastructure required at the subdivision level, including site work, retaining walls, perimeter walls, dry and wet utility lines, roads, sidewalks and landscaping. Every portion of this project had ready-mix delivered by a large transit-mix truck operation from the community. Trucks traveled between the central batch plant location and the site of the construction.

The following information was collected from a large scale ready-mix concrete supplier in the Greater Phoenix area
and is based upon 2007 operations (2022 trucks are slightly more efficient).
Type of fuel used: Diesel
Fuel efficiency for empty truck (miles per gallon): 3.3
Fuel efficiency for loaded truck (miles per gallon): 2.8
Average fuel efficiency per trip (miles per gallon) assuming that the travel and return distances are the
same: 3.05
Fuel consumption per trip: (2 X 15) / 3.05 = 9.84 gallons of diesel
Carbon emissions: 22.23 lb of CO2 per gallon of diesel

(US EPA 2005, note: newer trucks are more efficient)

Carbon emissions per home lot: 68.88 X 22.23 = 1531.20 lb of CO

2
It would take an environmental engineer to completely understand this data. From all appearances there is a significant spike in the CO2 output from transporting concrete for the Phase #1 period.  Again, this is the price that is paid to get our built environment prepared for community use. It is the time where we accept some bad to get to a greater good. Phase #1 is a time to accept big impacts to our built environments.  Following the first phase we must be careful not to damage what we just created – We now transition into Phase #2.
Phase #2 needs smaller, lighter, but just as tough
Small projects begin to take over once the big infrastructure projects are completed during Phase #1. The latest study on the size of small loads suggests that there will be 28 million cubic yards of concrete delivered every year in under 4-yard loads.  These are generally called "short loads" and the volume of these loads grow by about 5% every year. The interesting thing about this second phase is that it compounds over time. Not only do the new patios need to be poured, but the maintenance and repair of older assets build upon the total small load volume over time. This is the period when damage from heavy things makes smaller and lighter even more critical.
Phase #2 concrete needs – The people have moved into their completed homes following the first phase. They walk on the sidewalks, play in the parks, shop in the businesses and drive on the streets. This is the phase when home improvement takes over the concrete needs of the community. Concrete projects transition to patios, fire pits, fence posts and decks. Small projects sprout up everywhere as people find places to put the shed, a new spa or park the RV.  Most of these concrete projects have difficult access and require moving concrete over finished sidewalks or driveways. During Phase #2 we want to minimize the negative impact of heavy trucking on our newly built assets.
Phase #2 also includes the repairs and maintenance of the long-term assets of the community. Tree roots damage sidewalks, gas line feeds are installed, manholes are adjusted and much more. A 2022 study by Concrete Financial Insights found that 7-percent of all ready-mixed concrete deliveries are under 4 cubic yards. In the US, this represents about 28 million cubic yards each year. Most of this volume is used during a Phase #2 time frame. Almost all of these projects do not need a big truck to make the delivery. Most are within the delivery capabilities of the Cart-Away system. A system that it is "Smaller, Lighter and Just as Tough" without the need for a heavy and bulky concrete delivery truck.
Phase #2 trucking needs – This is where a Cart-Away concrete delivery system saves the local infrastructure. Heavy transit-mix truck deliveries should be minimized because a big truck will break sidewalks and driveways. Difficult access is made so much easier with a Cart-Away trailer.  A Cart-Away mixing trailer is the perfect solution to save these assets and to get the concrete closer to the work. Newly completed residential streets should be saved from all of these small loads, and Cart-Away solves the negative impact of all of the heavy deliveries. Completely loaded with under 2 cubic yards of concrete, a mixing trailer is less than 10,000 lbs. It is pulled easily behind a pickup truck that weighs 80% less than a ready-mix truck. In over 400 communicates in North America there are fleets of these small tow-behind concrete mixers. These cities are saving their built assets while improving their environment during this period. The first phase of construction might take several months, but Phase #2 projects can go on for decades.
Phase #2 air quality impact – Beyond the lighter weight, the Cart-Away system dramatically reduces the negative air quality issues created during the previous phase. The mixing trailer is powered by a small 4-stroke engine that is super efficient.  It can do a complete delivery using just over a gallon of regular gas.  In addition, the pick up truck that pulls the trailer runs much cleaner, with way less fuel than a big ready-mixed truck. The current and projected standards by the Center for Climate and Energy Solutions for light trucks is 268 g CO2/mi. and they believe they'll stay between 240-257 g CO2/mi through 2026. Communities choose Cart-Away to keep the traffic of big trucks to a minimum and for lowering CO2 production.
Choose Cart-Away for Phase #2.
Since 1993 the Cart-Away mixing trailer has been the dependable solution for small load concrete deliveries.  Cart-Away is not as efficient during the first phase of construction as a big truck, but in the second phase we can make a big impact.  Every part of a Cart-Away operation makes a smaller impact on the environment and can protect the great assets that we build and enjoy.