Concrete mixing in trucks and trailers
Over the years we have helped hundreds of ready-mixed concrete suppliers get established within their community. And during that time we have seen many different combinations of portable cement mixing solutions.
In most cases, the ready-mixed concrete location uses a standard Cart-Away material batching system that has been adapted to load into both trailers and trucks. We use a grade separation ramp that allows the truck to be lowered down for loading with the standard conveyor. Then when they load trailers, they just swing the conveyor over to the higher slab and into the drum of the trailer.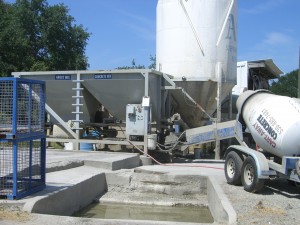 It is not uncommon for these high-volume locations to produce hundreds of yards per week. And with better than average profit margins, it is a business model that is paying high dividends for these business owners. Cart-Away portable concrete mixers bring in the self-delivery crowd and the trucks provide the additional delivery option to the customer base.
If you would like additional information on the use of Cart-Away batching systems to fill truck and trailer fleets, please give us a call.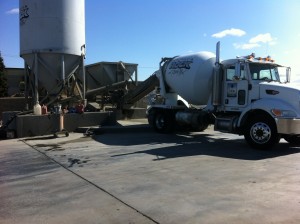 Our thanks to The Rock Yard in Yuba City, A&A Stepping Stone in Newcastle and California Rock in Lodi for sharing these images.