Mount the Portable Skid Mixer Anywhere.
And, because it is a skid mounted mixer, it can be used for many more applications than a trailer-mounted unit. We have also upgraded the hydraulic components to include the GearSaver drum rotation controller on each mixer.
Customers can decide to order their mixer with the hydraulic controls mounted on the mixer frame or on a remote panel that can be mounted anywhere. We have produced special skid mount mixers with electric power for university material testing laboratories. There are skid mounts with diesel power and some with special attachments for loading super-sacks of material into the drum.
An Off-Grid Solution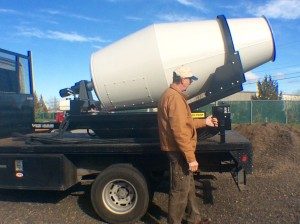 Watch Product Uses
Specs
1-3/4-yd or 1-1/4 yd mixing capacity

Gearsaver Speed and Direction Control

Uni-Body Hydraulic Valves

Tubular A36 Structural Steel

Steel reinforced hyd. Pressure Lines

Dimensions: 12'1" L x 4′ W x 6′ 9" H

Empty Weight: 2450lbs (1-3/4 yd) 2250lbs (1-1/4 yd)

*Due to California regulation, all engine options may not be available. Please call for more information.
Options
Options Available for the Skid Mount Mixer: