The Staple of Cart-Away Concrete got and Upgrade!
Many of the first (1993) rotating drum mixers are still in service today! Thousands of 1-yard concrete mixing trailers are on the road across North America and have mixed over a million cubic yards of concrete.
The Largest Mixing Capacity
A 3-yard towable concrete mixer is the perfect alternative when 1-yard or 1.75-yards is just not enough. The 3-cubic yard capacity provides just the right amount for larger projects and bigger jobs.


Specs
31 HP Gasoline Engine

Direct Drive Hydraulic Pump

Adjustable Coupler Mount Points

GearSaver Knob for Gearbox Safety

Triple Axle

Electric Brakes, All Six Wheels

Dimensions: 18' L X 7'2" W X 8'8" H

Empty Weight 5250#

GVW 18,000#

DOT Approved Brake Lights with Marker Lamps

Uni-Body Hydraulic Valve

A36 Tubular Steel Frame Construction

Steel Fenders

*Due To California Regulation, all engine options may not be available. Please call for more information.
What are the Differences?
1.75 yd Specs & Options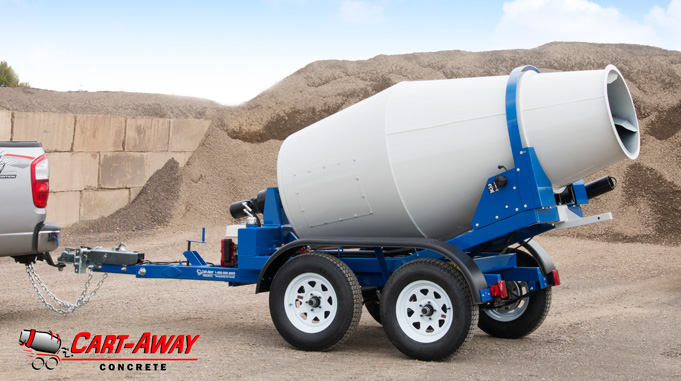 When you choose the 1.75-yard portable concrete mixer you have a drum with nearly double the carrying capacity! This towable concrete mixer is built with the same solid fabrication and parts that you can trust for many years.
3 yd Specs & Options
When

you choose the 3-yard portable concrete mixer you are buying into the future of Cart-Away's mixers built with a 25-year success record. These are built to last.
1.75 yd Specs
10,000 GVWR or 1.75 cubic yard capacity

Load range D ST 225/75 15″ radial tires 2540# rating
4 wheel free-backing brakes

Vari-height adjustable tongue

GearSaver Knob for gearbox safety

Hydraulic surge brakes (electric brake option)

Dimensions 15'4" L x 5'7" W x 6'10" H

Tubular A36 structural steel frame

Plastic Tandemflex fenders
3 yd Specs
18000 GVWR or 3 cubic yard capacity
GearSaver Knob for gearbox safety

Dimensions 6' 8-3/4" W X 18' 5-1/4" L X 8' 4-1/2" H

Tubular A36 structural steel frame

Plastic Tandemflex fenders
Add-ons Available for the MixKing: