We are #1 in the trailered concrete ready-mix industry!
We have a variety of resources dedicated to helping you find a solution to meet your needs. Ask us how!
Read About Real Customer Experiences
"I never dreamed that so many people would be interested in purchasing concrete from us. We have gained new customers and increased business by offering U-cart Concrete from Cart-Away."
"At first I was nervous about being in the U-cart concrete business, but with Cart-Away training it has been a wonderful experience. The Cart-Away system is great.. it really gets people in the door!"
"Our Cart-Away trailer works all day, every day on repair jobs. I wish we had another one."
"The Cart-Away Mixer really surprised us on how it just kept cranking out the concrete. We poured 48 yards in a day and a half"
"The introduction of Cart-Away Concrete to our customers has filled a major void. The speed and high quality of the concrete equipment has amazed them. The plant has increased foot traffic and profits. I can honestly say that the placement of our plant has revitalized our business and encouraged our past customers to return and new customers to come take a look. Cart-Away has been our #1 guide through our learning process."
"Besides the revenues to our operation from selling U-cart concrete, we have brought in many new customers that now also rent our equipment and buy other merchandise from our store. The mixer trailers set us apart from others and our customers love them. Do-it-yourself, professional contractors, city and counties all have become loyal customers. It also turns out to be a great addition to our business without having to add extra staff."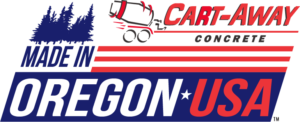 Why would I ever buy a wet auger system if the dry belt loader is so great?
Georgia Conrad
2018-06-26T20:29:39+00:00
In areas where the population is dense and close to your concrete operation, or where there are many U-cart ready-mix plants located, the ST-125s are sufficient. However, you will get more outlying business with mixing trailers whether or not you are batching wet concrete or mixing dry materials.
We are always here and ready to help. Send us a message and we will do our best to be sure your next project is equipped with the right tools for the job.